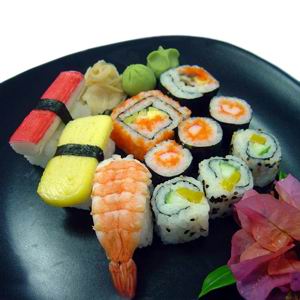 I've been burning the midnight oil the past couple of weeks, working on my Squidoo lenses and tinkering with my blog layout. I noticed I've been in the Leading Lensemaster rotation on the Squidoo home page this week. It was a pleasant surprise.

I managed to create the Deadly Beauty abstraction series in the midst of all the other Web tinkering. Though, on the flip side, my writing has dropped off. Tonight, I realized I've nearly drained myself dry creatively. It's time to refuel and recharge. This calls for a generous dose of Sushi & fine art.

Later this afternoon, I'll be heading into Vancouver with my husband. It's been a while since we've been to the Vancouver Art Gallery. I'm looking forward to looking at the work of other artists and seeking inspiration. The gallery is currently showing the photography of Fred Herzog. As I've been branching out a bit with my digital photography, I'm very interested in viewing Fred Herzog's work.

I'm hoping to get back on track with my writing and would like to create some new haiga over the next few weeks. I'm eagerly awaiting the arrival of two sets of limited edition ACEO cards I've just recently had printed. When ready, I'll be numbering and signing each limited edition card and offering them for sale through the blog and my web site.